Choosing the ideal method to travel with your cosmetics, whether a soft bag, beauty train case, or rolling train case, entails much more than selecting a bag in a color you like. You want to ensure that you have the appropriate size and organizational structure for your needs. If you're a make-up artist or traveling with more than the bare necessities, a train case for cosmetics is your best choice.
The most delicate train cases include many compartments so you may organize your cosmetics to your taste, but it's also better because nothing is banging about. Train cases are also ideal for long-term storage at the house when you don't have a cosmetic space.
Make-up while traveling: When flying, ensure you understand what you can and cannot bring in your carry-on. Solids like chapstick and lipstick are OK, while liquids and gels such as mascara, lotion, lip balm, wet foundation, and nail polish are prohibited under the TSA's 3-1-1 rule.
Before you choose your favorite cosmetics on autopilot for your usage, consider what colors you'll need for the outfits you're bringing and the kind of activities you'll be attending.
If you can avoid using powder compacts, do so. Use a liquid foundation, cream blush, and eyeshadow if you can. Pressed powders are delicate and might crack and break apart during transportation.
Pack your compacts softly with linen rounds to offer your powders some cushion and protect them from bouncing about in their containers whenever you have your powder, which most of us will.
Now that you know how to pack make-up while traveling let's get straight into some goof make-up train cases that you might use.
Best Make-Up Bags While Travelling
An extensive beauty collection necessitates efficient organization, so pick up one of the best make-up and cosmetics bags. Consider this: if you have serious cosmetics, recommended hair products, and skin-care collections, why would you cram all your gorgeous, hard-earned eye make-up palettes, eyeliner, and favorite brushes into any old boring bag? Your cherished beauty goods need to be protected by a custom cosmetics organizer.
These beauty bags, cosmetic train cases, and organizers come in a variety of colors, sizes, and colorful patterns, but they don't only have eye-catching designs. The most significant component is storage - which you'll find enough of, as most of these options (including the smallest ones) offer many sections, compartments, and slots for your belongings.
With all that in consideration, we combed the web for the most excellent cosmetic bags, pouches, cases, and containers money can buy, including small clutches to tuck in your handbag or carry-on and huge cases ideal for traveling. Find the best cosmetic purse for your needs and budget below.
Top Features Of Good Make-Up Train Cases
With so many alternatives, deciding on a type of casing is difficult. Here's a list of common cosmetic train case characteristics and why you desire them.
Various sizes
Make-up train bags differ in size from a lunchbox to a suitcase. More minor cases are ideal for personal use or when you wish to bring a few products. They are an excellent choice for amateur make-up enthusiasts, students and cosmetology trainers, and anybody who enjoys doing daily touch-ups. More significant cases may store a whole set of foundation, concealer, powder, lipsticks, eye make-up, mascaras, airbrushing equipment, and other cosmetics. These are excellent choices for professionals and anybody who works as a beauty educator. Because they are on the job for lengthy periods and their clients/classes typically require various supplies, a more significant train case may be a valuable tool.
Add-ons are available
Some beauty train cases have individual bags with lesser things to help with organizing. Zip-in detachable circumstances allow you to pick specific things to use without rummaging through the bottom of a bag or package. If you have a massive case and need to take it to a work site or class but then have to set it down and go around to different spots on the work site to put on make-up for customers, they might be a fantastic alternative.
Adjustable trays
Some types include adjustable dividers that allow you to alter the configuration of your trays. With numerous layers, customization aids in keeping objects sorted and confined. Some platters spin, while others rise and fall. It's one of those qualities that cosmetic artists adore, but others dismiss as "meh." Whatever suits you!
Straps on the shoulders
Smaller cases than a suitcase typically include a carrying handle, although some versions also have a shoulder strap. Shoulder straps free your hands to handle other objects, and many feature locking mechanisms to prevent cosmetic spills.
Wheels
Although not all cosmetic train cases feature wheels, most bigger ones do. Consider a wheeled cosmetic bag to be similar to luggage on wheels.
6 Best Make-Up Train Case 2022
1.
2
-in-1 Makeup Train Case
, Rose-Pink
Size: 14.2"L X 9.5"W X 28.3"H,41.5"H w
This specific make-up train bag is a bestseller from OmySalon as it is intelligent, durable and has a privacy system. This bag is a steal deal with 5 out of 5 reviews and free shipping in just 5-7 business days. Omysalon also provides wholesale prices that save make-up artists from a pocket pinch.
This make-up train bag is best for saving space, with a multiple-compartment style. It also allows you to DIY sections inside this make-up train bag. Fixed trays are completely collapsable, so you have to face an awkward situation while traveling. It is highly spacious that can store most of your make-up quite easily.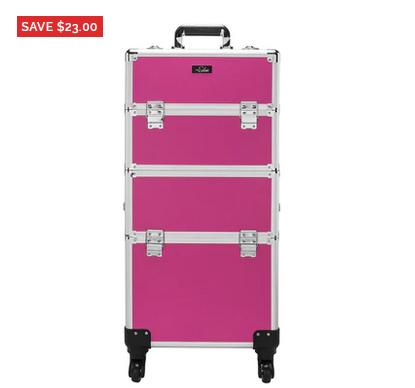 Other features include- a locking system with a key, rounded steel edges, connecting and extendable aluminum lock for safety, metal loops, a cushioned handle, and nicely finished hinges. It is the best make-up train bag you ever ask for at such an affordable price.
2.
2-in-1 Makeup Train Case
,
 Black
Size: 14.2"L X 9.6"W X 29"H,41.5"H w
This one is the second of the best make-up train bags by OmySalon. Omysalon aims to provide the best quality and innovative looks, and this make-up train bag is the definition. Made from hardly aluminum, topped with a sexy black color, this make-up train bag will gift you compliments.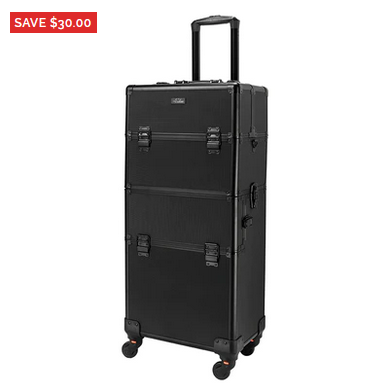 This make-up train bag has a 2-in-1 trolley for cosmetics, with a flat and big bottom compartment for more extensive cosmetics. A cushioned handle and strap provide you with the correct comfort while traveling. This bag has 360 spinner wheels that adjust accordingly. And obviously, how can OmySalon forget to put the detachable locks with keys.
It's a classic Omysalon make-up train bag that goes everywhere with you.
3.
4-in-1 Makeup Train Case Pink/Black
Size: (13.4 x 9.8 x 29)" / (34 x 25 x 73)cm
OmySalon never disappoints when it comes to make-up travel bags. This trolley for make-up is portable, with collapsable trays that fold easily. You can also add compartments according to your requirements and add wheels when necessary. This make-up trolley bag is a friend to all our make-up artists and enthusiasts.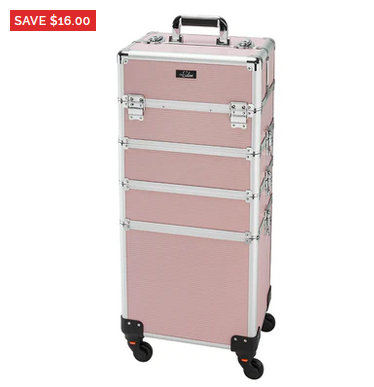 Traveling to greater distances, weel no worries, OmySalon hasn't forgotten about your comfort. This bag has velcro straps explicitly and an adjustable handle to work with. So, what are you worrying about? Lock up your make-up trolley with OmySalon fancy locks and stay out of tension.
4.
Train Makeup Case 360-Degree Casters
Size: 13.8 x 9.4 x 22.1)" / (34 x 24 x 56)cm
Ever seen a fancier make-up train trolley? I bet you haven't. This trolley is for all our aesthetic travelers who take good care of their appearance. This diamond-cast make-up trolley has all the features you may require to carry all your make-up while traveling.
Considering gifting your close ones with a good quality make-up train bag? Well, your search ends here. This lock and key privacy system protect your stuff from theft. With detachable wheels, position your make-up trolley however you want to. This is a unique make-up trolley with a telescopic rod that adjusts itself according to your needs.
Other than those, it has many compartments to store your make-up easily. This make-up trolley bag is steady, durable, and worth the price.
5.
Train Makeup Case with Diamond Textures
Size: 14.4 x 9.8 x 23)" / (36.5 x 25 x 58.5)cm
This is a completely redesigned beauty train case for traveling with make-up. This lovely cosmetic case has a stylish style and gorgeous color and is readily transportable. It is ideal for use by beauty professionals, students, and hair stylists, as well as by individuals. Furthermore, this aesthetic case comprises high-quality, solid, and long-lasting materials. As a result, it may be used to store make-up tools or cosmetics such as cosmetics make-up sponges, powder puffs, brushes, and so on.
Do you want to gift your loved ones a high-quality cosmetics train bag? Your quest has concluded. This includes a lock and key privacy mechanism that keeps your belongings safe from theft. With retractable wheels, you may place your cosmetics trolley anywhere you choose. This cosmetics trolley is one of a kind since it features a telescopic rod that adjusts to your requirements. Aside from that, it includes several compartments for storing your cosmetics. This beauty trolley bag is sturdy, long-lasting, and well-priced.
6.
Aluminum Makeup Train Case Pink/Black
Size: 12.6"L x 8.7"W x 9.5"H
As a make-up artist, you may require a light and long-lasting cosmetic make-up box to store and carry your cosmetics. This excellent cosmetic case features a trendy design and a stunning color and is easily transportable. It is appropriate for beauty professionals, academics, hairdressers, and people. Furthermore, this aesthetically pleasing case is made from highly sturdy and long-lasting materials.
The Omysalon professional cosmetic train box has a vast bottom compartment and four extensible trays. This case's big bottom area may accommodate more essential things such as hair styling products, curlers, etc.
It has two security locks and two matching keys to keep your stuff safe. With several compartments, this beauty train bag is ideal for saving space and allows you to create your boxes within this cosmetics train bag. Fixed trays are collapsible, putting you in an unpleasant predicament while traveling. It is vast and can easily contain the majority of your make-up.
Conclusion
If you're interested in cosmetics trains, it typically implies you're enthusiastic about beauty and want to carry it everywhere you go—which is fantastic! We really wish you the best of luck wherever your make-up leads you!